Welcome to Reception Class
Welcome To The World Cee Cee Friday 2nd March
We know you are all having fun on your snow days but we wanted to share some lovely news with you. This is Cee Cee, our first born chick. She was born early yesterday morning and has been transferred to the brooder box today. Big thank yous are being sent to Miss Leetham, Mrs Holiday and Mrs Allen for walking to school each day to look after our eggs and our first chick. We will keep you informed of anymore developments. Take a look at some of the tracks in our outdoor learning environment too!
Olympics Tuesday 27th February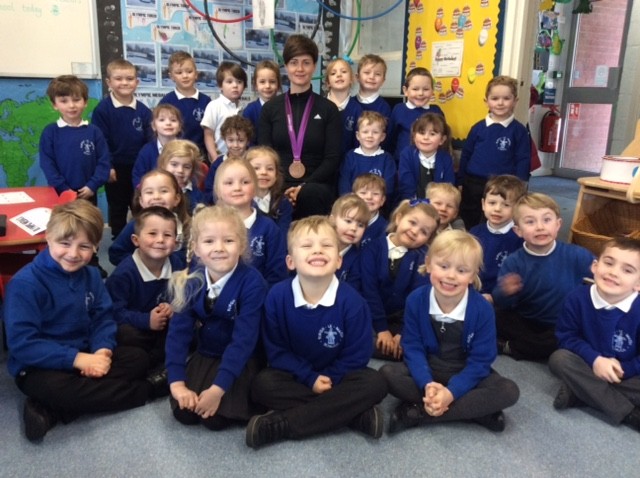 Over the last few weeks we have been enjoying the Winter Olympics. We have celebrated Team GBs success and we were thrilled that we got to meet Sally Walton, who won a bronze medal in the Olympics in London in 2012. She is an amazing hockey player. Sally very kindly showed us her Olympic medal and we discovered it has the event name engraved on the side. Thank you Sally for visiting Reception during an extremely busy day.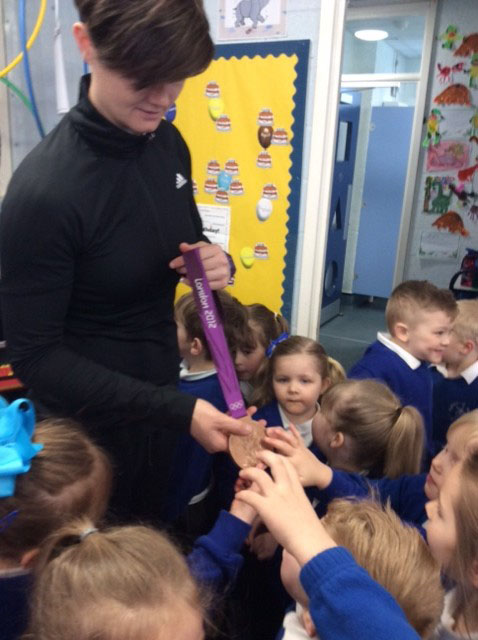 Mark Making In The Snow Tuesday 27th February
We had lots of snowy mark making fun this morning. We used snowballs to make tracks in the snow and it made the snowballs into bodies to make snowmen, snow hedgehogs and snowy creatures. We also used feathers to write words in the snow!
Winter Olympics Thursday 22nd February
We have been having fun learning about the Winter Olympic sport of curling. We looked at the equipment for an indoor version called 'kurling' and then played our own game. We worked on our early addition skills too when totalling our bean bag scores. Congratulations to the yellow team on being the overall highest scorers.
Oodles of Noodles! Wednesday 7th February
Did you know that 'Oodles of Noodles' was one of the names that Tia Ten considered for her restaurant in Ten Town? Today as part of our Chinese New Year celebrations we have been given our own chopsticks to try some noodles with. It's very tricky learning a new skill and we all had our own ideas of how to use them. We love exploring, discovering and adapting our original ideas in Reception.
Chinese New Year Monday 5th February
This week we are celebrating aspects of Chinese New Year. Today we retold the story of how the years got their order. During half term the Year of the Dog will begin. All of our teachers were very impressed with our homework challenge. Don't forget to take a look at our wonderful display when you come into school.
Rocket 31st January 2018
In guided reading this week, our group followed the instructions and made a rocket! We didn't have any red dots so we used smiley faces instead. Everyone has had fun playing with it.
Phonics Friday 26th January
We are enjoying accessing Espresso on both the SMARTBoard and laptops today. We have been working on initial phonemes and digraphs. Videos and activities from Scrap's phonics are really helping us and it is lots of fun too. For homework this week we need to find or draw some pictures for our digraph train. We need words containing the digraphs "ie" "oa" and "ai" for example "magpie" "goat" and "snail". We will be creating it on Wednesday.
What's Happened To The Dinosaurs? Thursday 25th January
We discovered a very strange sight in our classroom this morning. We've tried all sorts of ways to release the dinosaurs. Please ask us about what we have been doing. Out of everything we explored we still discovered that melting the ice with our warm hands worked best!
Dinosaurs! Monday 22nd January
Wow! We've had some amazing dinosaur homework arriving. It really is fabulous. We've loved hearing how the children have worked with the help of their families on all sorts of projects. Here are just a few examples along with some other dinoart we have been working on in class.
Dinosaur Fun! Tuesday 19th January
We've been exploring different dinosaurs this week. Our dancing dinosaurs in PE have really impressed our teachers. Looking at the PE photographs, can you tell which dinosaur is which? We've been working hard on our performance skills and learning that having our own ideas means that that we won't all look at the same when we perform. The teachers are really looking forward to seeing our dinosaur homework on Monday morning. We can create, make, draw, collage, sew our favourite dinosaur and find out three pieces of information about it. It can be in any style or format and will be used in our new dinosaur display. See you on Monday for more dinosaur fun.
Library Technology Tuesday 16th January
We returned our own library books today using the scanner. Don't forget Library books need to be in book bags every Tuesday in order to be changed please. Thank you.
"Ten Little Lights" Friday 12th January
We have enjoyed retelling the story of "Ten Little Lights" through sequencing pictures, animals and numbered cards. We have also matched our animals to some of the snow silhouettes that we made. Please ask us to tell you the story at home.
Library Books Tuesday 9th January
Tuesday will be our day to change books in our school Library. So please make sure you have your library book in your book bag every Tuesday morning. We all have a special code that lets us scan a book out. We all chose a book today and next week we will be scanning our own books back in so we can borrow another one!
Wintery Fun Monday 8th January
We've been working on balancing, cutting and counting today. Everything has a wintery theme. Snow scenes with icy gems and penguins with hoops helped us with our counting. Constructing ice castles with sparkly cups and dishes helped with our balancing and we've matched mittens and cut them out as well as decorating our named snowmen. A very busy wintery fun day.
Icy Ice Investigation 4th January
We've had a great time investigating what happens to ice when we hold it in our warm hands. We made predictions and wrote about what we did, particularly how it felt, afterwards. The children named our investigation and had lots of fun exploring the ice before trying out the investigation itself. After everyone had experimented to see if our predictions were true, we had time to see how many children could safely fit around the tuff spot to play. We told our teachers we were trying to create "ice storms" and "pretend snow!"
Christmas Jumper Day Fun Thursday 14th December
There were so many fun activities to do in Reception today. We have been celebrating Christmas Jumper Day and raising money for Save The Children. At the end of the day we voted that our favourite task was Miss Bearman's special 'J is for Jesus' activity. When you hold a peppermint candy cane upside down it makes the letter J. We've been working on our phoneme action and letter name and found lots of other words beginning with our special letter including jam, jelly, and of course jumper!
A Visit From Eli Hayter Tuesday 12th December
Local author and illustrator, Eli Hayter, visited us today. We had a fantastic time listening to his story, looking at the fabulous illustrations, answering questions and even sharing a few of our favourite books. We really hope some of our answers will help you with your new book. We can't wait for you to return and read your next book to us, Eli. Thank you so much for choosing to visit us.
An Amazing Day Monday 11th December
We've had a truly amazing day today. We started the day by meeting the cast of Aladdin. We are all really looking forward to going to see the pantomime on Friday. Then we had our dress rehearsal for the Nativity Sing-a-long. After lunch we performed the story that we had rewritten and performed in our own words. All of our families, friends and teachers are extremely proud of us. We even surprised Miss Winson with a gift, card and everyone singing to her to celebrate her birthday. At the end of the day we found our own little keepsake to take home to remember our very first school performance.
Christmas Arts Day 4th December 2017
Thank you to all our volunteers who made Christmas Arts Day possible. We've all had an amazing day. When evaluating at the end of the day two children gave a thumbs up and sideways. When asked why they said, "It's not long enough. It's gone too quick!" It's been extremely busy. We are even keeping a few things a surprise. Just wait until you see all our efforts.
A Big Thank You 30th November
We would all like to say a really big thank you to our Mrs Holiday's mother in law, Mrs Holiday for knitting everyone in Reception a pair of mittens. They really have been fantastic this afternoon. As he snow got heavier, we really needed them. Thank you so very much Mrs Holiday.
Snow! Thursday 30th November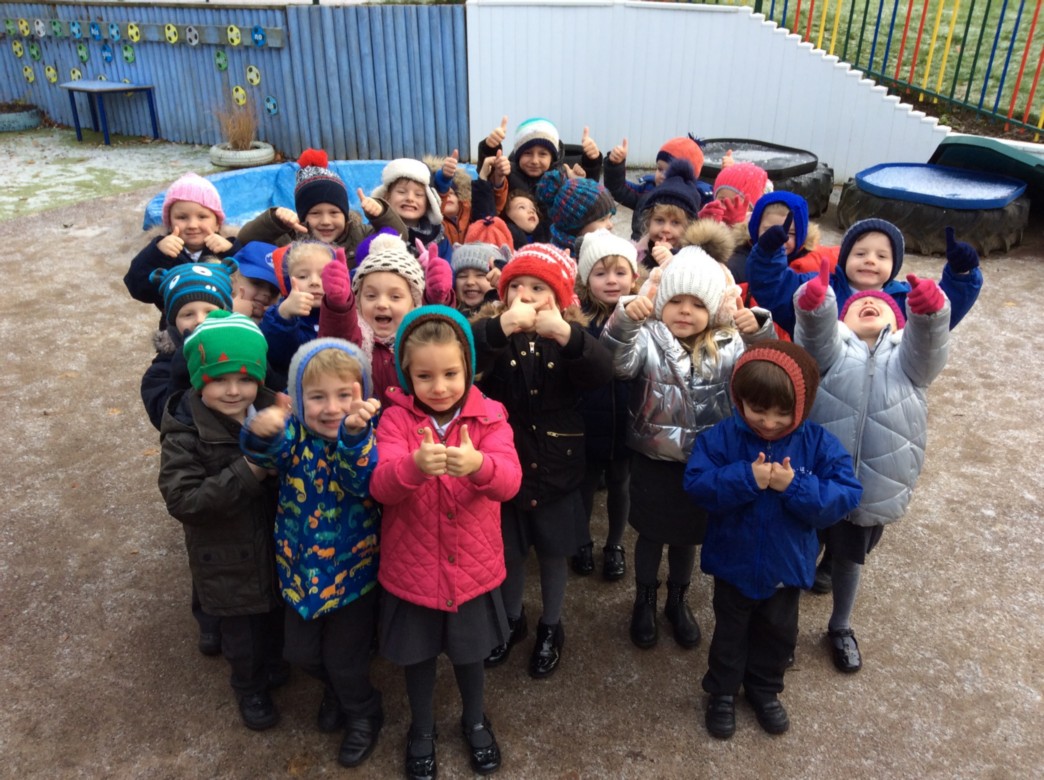 We had fun outside in the snow today. Some of us were seeing snow for the very first time. Catching snowflakes on our tongues, whilst practicing our new phoneme action for the letter Ll was lots of fun and later as the snow became heavier, we ad a great time mark-making.
Decorating Christmas Stockings 29th November 2017
We have been decorating "Heritage Stockings" today. We are going to sell them at. The Christmas Fair on Friday the 8th December.
Umbrellas! Thursday 23rd November
Today we have been looking at the letter U. We now know that it's phoneme action is "u u u u" whilst pretending to put up an umbrella. We've had lots of fun this morning practising our formation in paint, pens, chalk and the sand. We've also been making the sound of rain using bubble wrap. Some of us wanted to know whether bubble wrap might keep us dry like an umbrella, so we experimented with water and our hands! We also discovered that the more bubble wrap we had the louder the rain sounded.
Making Playdough Wednesday 22nd November
We worked in teams this afternoon to make playdough. We needed water, salt, flour and oil. When we had mixed all of the ingredients together and made the batch, we shared it between us and had a go at kneeding, rolling, twisting, turning, flattening, squishing, squashing, pushing, patting, poking and pinching it. This will really help us tomorrow as we are having our first fifteen minute dough disco!
Celebrating! Monday 20th November
Today we have been celebrating. We have celebrated some wonderful "Pudsey" themed homework. We have looked at photographs of Her Majesty The Queen, Elizabeth II and The Duke of Edinburgh, Prince Philip, as they are celebrating their 70th wedding anniversary. We've also enjoyed being able to subtract from six with the Smarties left over from last week, found sets of six and celebrated Stick Man returning home to the family tree!
A Spotacular Day Friday 17th November
We've had so much fun today with a spotty dotty theme and all for a fabulous cause. Pudsey Bear is the Children In Need Appeal's mascot and unfortunately the real one was very busy today, so we had our photographs taken with a picture of him on our SMARTBoard instead. We used spotty plates to play subtraction of smarties and we looked for spots and dots that are always in our classroom e.g. Sticklebrick circles! A big thank you goes out to Mr Burgess who kindly made our Pudsey biscuits ready to decorate. They were delicious.
Child Initiated Play Thursday 16th November
We love seeing our children come up with new ideas. Today we saw a child's idea spread very quickly. So much so, that everyone wanted to have a go. Earlier in the week we were using real oranges/tangerines to make the letter o. We were going to eat them as an extra snack but the children had other ideas. Take a look at just a few of the photographs that saw the production of orange juice in so many different ways!
Our Week Thursday 16th November
We've been working on the number five and the letters g and o this week. We've been finding objects beginning with our phonemes and using them to practise our letter formation. Glitter and glue for g and oranges for o. Fiona Five has been helping us to learn about the number 5, and we especially enjoyed collecting the fruit for her on the SMARTBoard game. We've played lots of different counting games and enjoyed booking more holidays in Freddie Four's travel agency too. In the dolls house this week there has been a furniture delivery and a loft conversion is in progress!
Work of the Week Monday 13th November
A certificate was presented to an amazing engineer today. Using Georello, ten cogs were placed efficiently and effectively, so that they could all move by turning the first cog. Everyone is extremely impressed and lots more children are now trying to match this achievement. Congratulations on being such an inspiration
Poppy Appeal and Remembrance Day Friday 10th November
This week we have been supporting the Poppy Appeal and thinking about Remembrance Day. Thank you Year Two for bringing the boxes round to our classroom this week.
We were all set a target today of "using colours for a purpose." We very carefully thought about the colours we would like to use for the poppies. We remembered that the red poppies help us to remember the people and the purple poppies help us to remember the animals. Our teachers were extremely proud of us for sharing beautifully and thinking about each other as well as recalling information from both home and school about Remembrance Day.
Ronald the Rhino Thursday 9th November
Our story this week has been "Ronald the Rhino." We have had a wonderful time celebrating uniqueness. We've talked about what makes us special, feelings and much more. We have enjoyed learning songs about the Javan Rhino, Ronald and retold his story using both props and masks. Some of us have chosen to try to draw the characters, using the step by step guides independently. Others have helped with a collage. Having a go at colour by numbers has been great fun and has really cemented our knowledge of our numbers to four. We've all enjoyed mark-making to write what we think the characters are feeling in different scenes from the story. Please take a look at our display next time you are in our classroom.
What Is It? Wednesday 8th November
A box and a tube became all sorts of vehicles this week. Spaceships, trains, rockets and buses to name but a few. The TARDIS also made an appearance! By far the favourite though was Freddie Four's boat that has been taking him across the world. We've received digital postcards from France 🇫🇷 , Peru 🇵🇪 and Italy 🇮🇹 so far - we can't wait to see where he will go next.
Tricky Concepts In PE Tuesday 7th November
We really needed to use our brain power in PE today. We were set challenges to travel from one side of the hall to the other, using just three foot prints. We were not allowed to step on the floor and used our balancing skills to retrieve the previous footprint to put in front again, to reach our destination. Although it was really tricky some of our class managed to get all the way across and then tried it using only two footprints! Some balancing combined with ball skills completed the session with Charlotte today.
Freddie Four's Travel Agents Monday 6th November
We've been making vehicles to transport us on our holidays booked at Freddie Four's travel agency. There's been a lot of learning going on. Looking in brochures, finding out information from Freddie Four's postcards, filling in booking forms and we even had a letter sent to thank us for a wonderful holiday! Today's favourite destinations Disneyland, Paris and Lapland.
Our First School Disco Friday 3rd November
We are all very, very excited!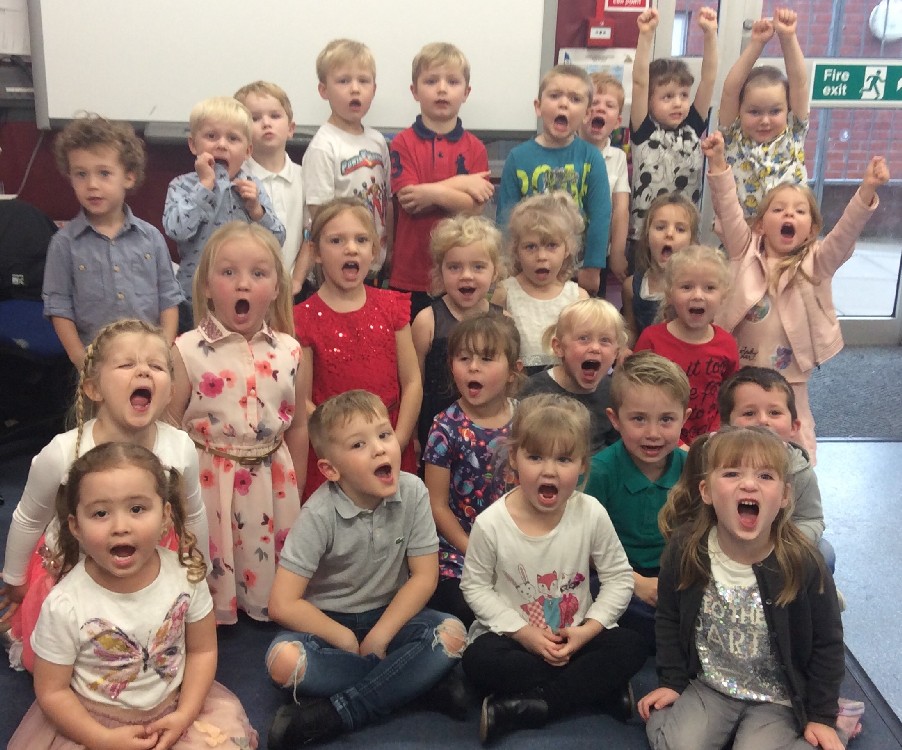 Fireworks Thursday 2nd November
We've been looking at the letters e and f today. We made glittery e shapes that looked like swirling, twirling fireworks and we used sparkly straws to write the letter f in the air! We also used our pretend sparklers to try and write our names and made up some action games using the words whizz, pop and bang! We had an amazing time when trying to keep up with all the actions. You can see it's of us giggling or concentrating in the super quick action game. We've all brought our special sparkly straws home to keep.
Edible Sparklers! Wednesday 1st November
We've had fun today melting chocolate, dipping breadsticks into the liquid chocolate and then adding popping candy and hundreds and thousands to make edible sparklers. Although we liked making them, we really enjoyed eating them. We listened to a story called "Sparks In The Sky," yesterday and will be doing lots more follow up including firework safety over the next couple of days.
New Term Tuesday 31st October
Welcome back everyone. It really looks like you have all had a very busy holiday. We can't wait to share even more homework tomorrow. Thank you for all the travel brochures. Freddie Four's Travel Agency is already looking fabulous. The booking forms have been very popular! In PE with Charlotte today we were working in pairs. We had some very tricky tasks to complete and we did very well. Here are a few photographs to help remind the children what we were doing.
Butterfly Release 27 October
To give our butterflies the best chance of survival, they needed to be released during half term week. Here are a few photographs to capture the occasion. After enjoying some sugar water on fresh flowers, they made their way to the nearby buddleja bush. Just look at the amazing details on their beautiful wings.
Metamorphosis Saturday 21st October
Look what has happened today!
Pupils of the Week
Reception joined Friday 'Celebration' Worship today, just in time to receive this whole-class 'Pupil of the Week' certificate!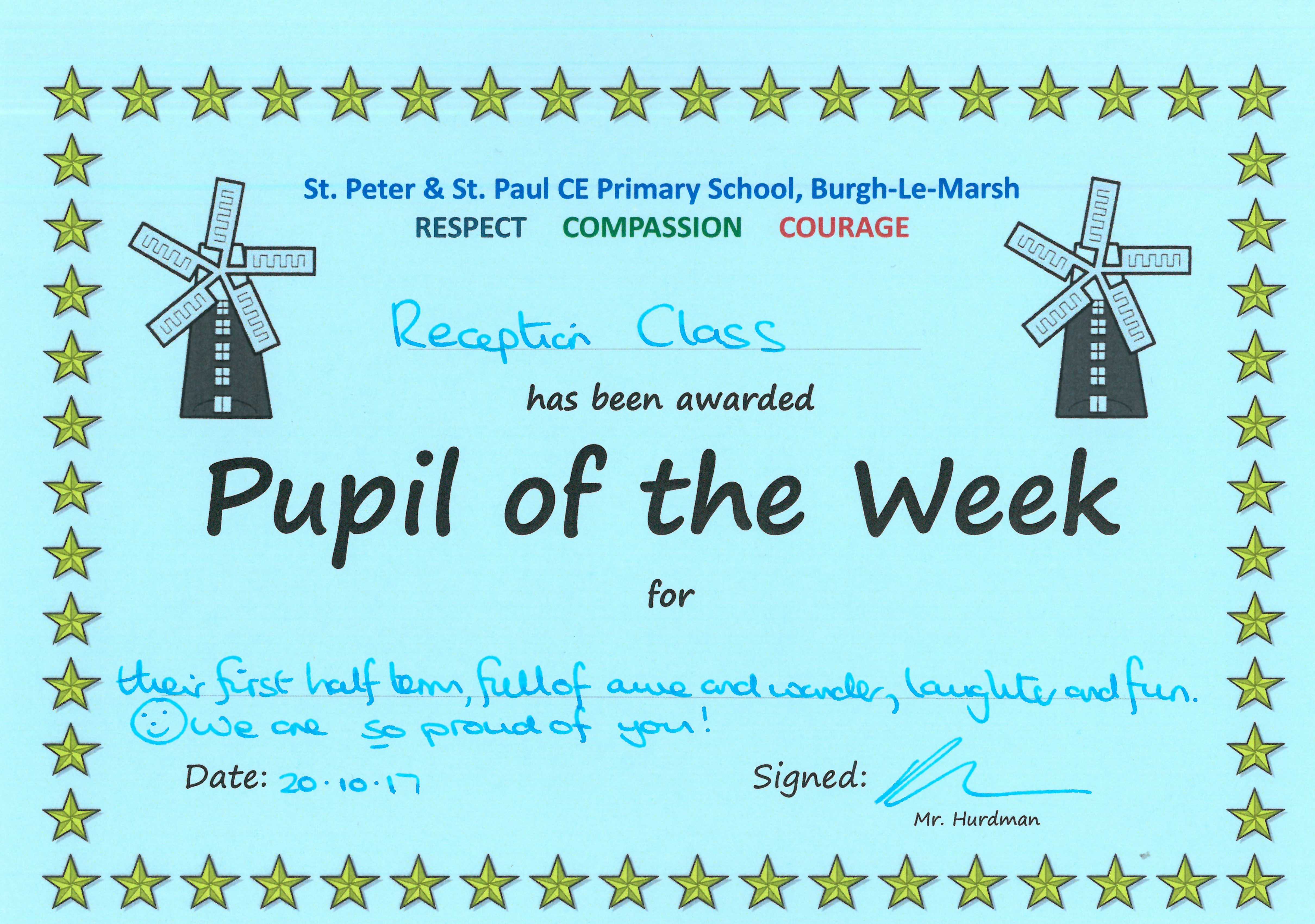 Parachute Fun Friday 20th October 2017
Taking turns, listening out for our team colours and finding the section of colour to match our team, were just a few of the things we needed to think about today!
Freddie's Visit 19 October
Freddie loves finding sets of four so we've helped him this week. We've also made his favourite food pizza. Each team made a pizza so that by the end of the morning Freddie had four of them! We all enjoyed helping to eat them.
There's A Special Visitor In Reception Monday 16th October
Freddie Four arrived today. He's come all the way from Ten Town to spend the week with Reception. He has a special backpack and inside it there were, four magnifying glasses, four compasses, four maps and four telescopes. Freddie Four has brought his boat, his oar and a special number four with a rhyme to help us form the number correctly. "Down, across, oar in the water!" This week we will be finding sets of four for Freddie Four and cooking him his favourite meal, four pizzas!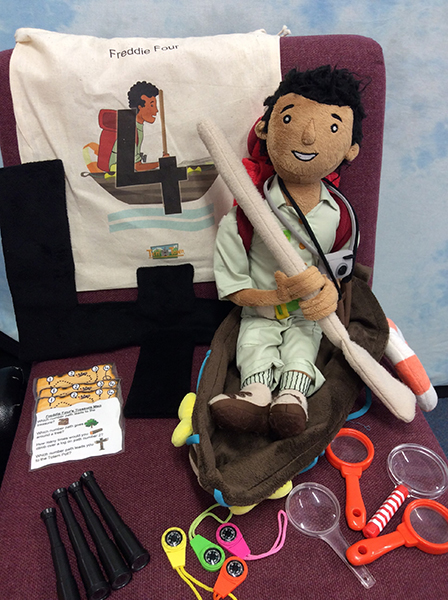 Laptop Fun Friday 13th October
We love using the laptops. We are learning how to use the trackpad in order to navigate around our special maths games. We really like using the headphones, as it means we can all hear what our own games are saying.
Transitional Art Thursday 12th October
After a fabulous Autumn sound walk we had fun creating some masterpieces in our teams! We all had different ideas. Please ask us about our artwork made from the treasures we collected and our artificial flowers.
Autumn Leaves! Thursday 12th October
Just couldn't resist sharing some of the adult initiated fun on our Autumnal Walk. The awe and wonder of safely practising our multiskills, throwing up in the air technique, with the dry leaves made everyone smile.
Outdoor Environment Fun Wednesday 11th October
It's been amazing outside today. The stories that have been told, the music we've heard, the games being played, the mark-making opportunities created and the sharing we've witnessed have all been amazing. There's been so much learning going on through play today, we thought we'd share a few photographs with you all.
Bumblebear Biscuits Wednesday 11th October
Inspired by our lovely gift from the Booktrust (every child in Reception received a copy at the start of the week), we made Bumblebear biscuits today. They included Norman's favourite ingredient. Can you remember what that is?
Caterpillar Update Tuesday 10th October
Our caterpillars are no longer caterpillars. We watched them climbing to the top of their home and making a J shape and over the weekend all five of them have each become a chrysalis. Mrs Gould very carefully removed the lid and put them into the Chrysalis Station. After a quick photograph, as a couple were still wobbling, she put them into the butterfly net. We can't wait to see what happens next!
Superhero Day Thursday 5th October
This is what greeted the children when they came to school today! Just wait until you see the transformation!
Wow! Thank you to all our wonderful volunteers who have made today possible. You can see just how much fun we have already had! It's only lunchtime!
More Superheroes! Thursday 5th October
This afternoon we played games, put together our jigsaws and enjoyed another book by our featured author. "Superworm" by Julia Donaldson was evaluated by the class majority as a thumbs up, but it didn't outshine Sue Hendra's "Supertato" from this morning. In our book bags tonight we brought home the biscuit we decorated, the gift of a superhero mask, a letter, our jigsaw and we carried our own "Supertato!" It would be lovely to add your child's feedback about their day to their learning journey. Don't forget you can pop any contributions from home into your child's named pocket on the 'Family & Friends Learning Journey Contributions' wall in our classroom. A big thank you once again to all the wonderful volunteers who so kindly gave us their time to make our day so special.
Autumn Suncatchers Thursday 28th September
Earlier in the week we went on an adventure to collect some autumnal leaves. Today we transformed our treasures into autumn suncatchers. They really do look pretty. We hope you like them too.
Caterpillar Update Thursday 28th September
We are keeping a close eye on the progress of our caterpillars. We think they have grown much bigger today. What do you think? We have been mark-making to offer suggestions to be able to give them names. Meet Skyla, Lola, Harry, CeeCee and Harley. Keep checking our website page for more news!
Gruffalo Crumble Wednesday 27th September
We didn't all enjoy the finished product, but most of us did. To see how we made it please take a look at our display in the Reception cloakroom. Rest assured there definitely wasn't a Gruffalo amongst our ingredients!
Interesting Ingredients Wednesday 27th September
The ingredients are ready. All five begin with the letter b! Bananas, biscuits, blueberries, butter and brown sugar. Can you guess what we are making today?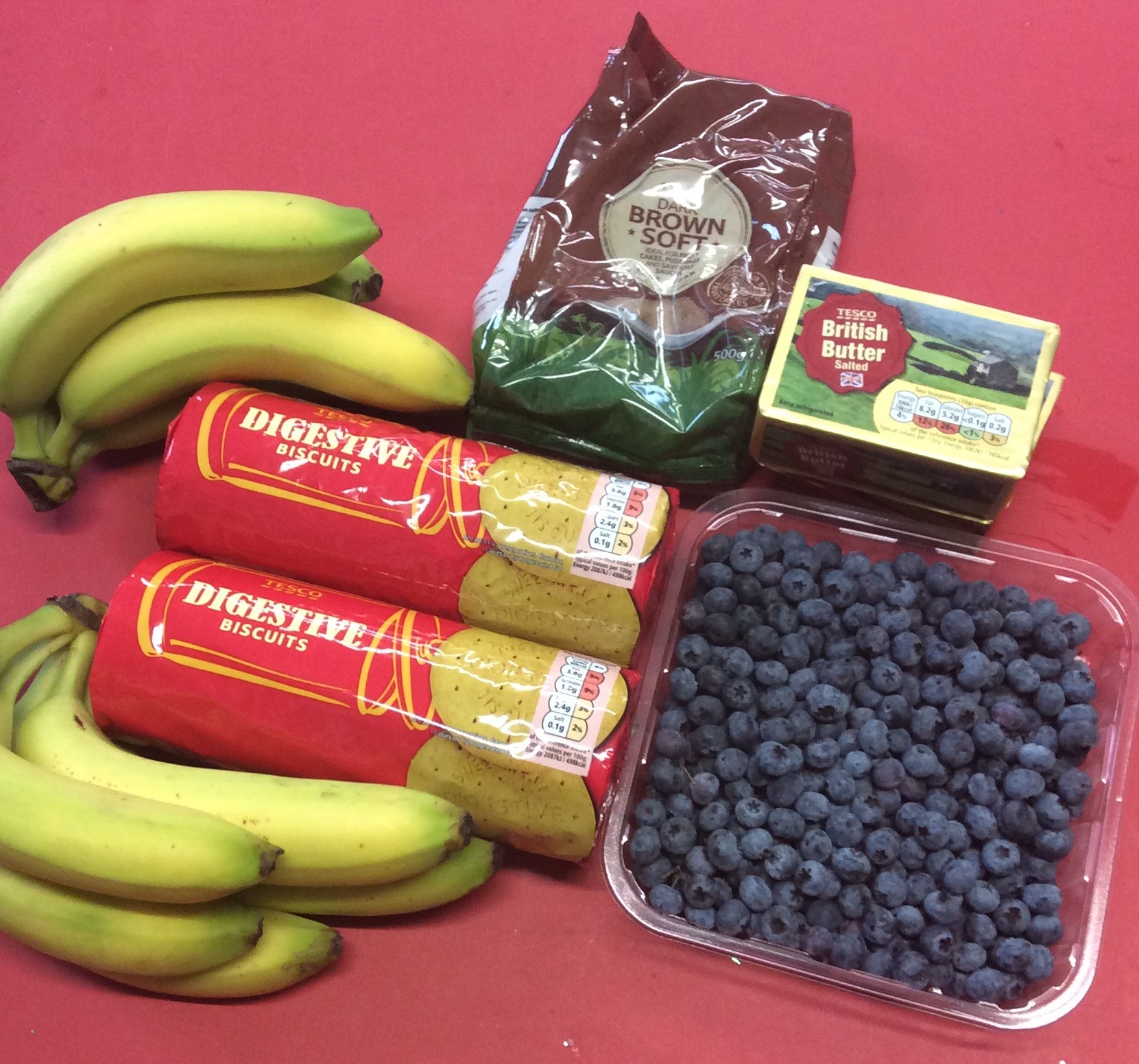 PE With Charlotte Tuesday 26th September
We've been working on our balancing skills with
Charlotte today. We were all worn out by the end of the session and could feel our hearts beating much quicker than they usually do! After a cool down and changing back into our uniforms they were back to normal.
'The Gruffalo' by Julia Donaldson Monday 18th September
Much of this week's learning is based around 'The Gruffalo.' Today we listened to the story and worked out which colours we would need to paint the main character. We remembered that "the Gruffalo's fur was brown, the poisonous wart on his nose was green, the white things in his mouth were not teeth, he had bright orange eyes and purple prickles!" Our paintings will be on display when they are dry.
Our First Full Day Friday 15th September
We really have had a busy day, but the biggest difference was we all stayed for lunch! There were even some clean plate stickers awarded. Well done Reception on your first full day at Burgh School.
Busy, Busy! Thursday 14th September 2017
Our last half day session has been extremely busy. We've been looking for items that begin with the letter s, searching for superheroes, using scissors, sharing and saying silly sentences! Tomorrow will be our first full day and we are all staying for lunch.
Superhero Fun 13th September
We have had lots of fun starting our superhero topic. Families, can you spot your own superhero? If you can't, we may not have received permission to feature them on the website yet. Please check with Mrs Gould if you can't see your little one and would like to see them featured.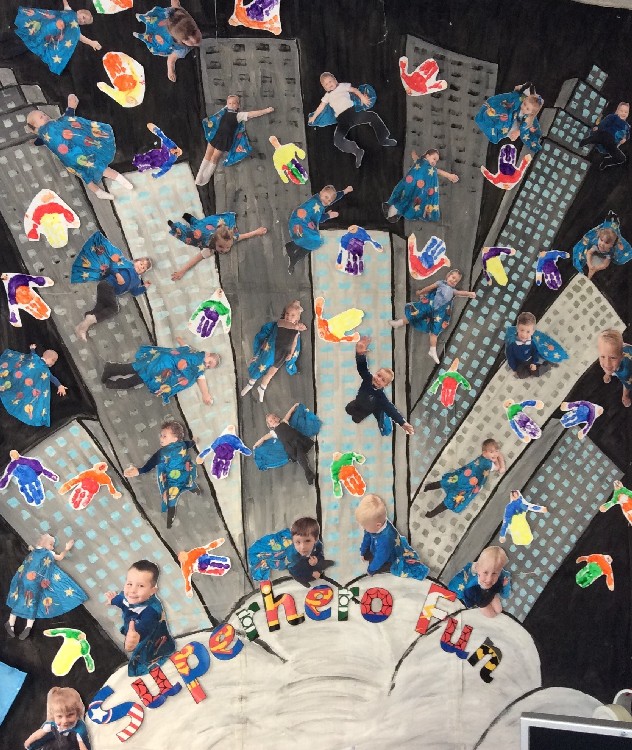 Such A Beautiful Morning Tuesday 12th September
We've had a very busy morning and the sun has been shining. Look at just a few of the activities we have chosen to use in our outside environment.
Exploring Our Environment Monday 11th September
In between the showers and heavy rain today, we had lots of fun exploring and discovering some of the resources in Reception.
Reception 2017 - 2018 5 September
Welcome to Reception. Here are just a few of the activities we have explored today. We've received a special certificate that includes our school core values. It is for you to keep. See you tomorrow for more learning, exploring, discovery and fun!