Welcome to Reception Class
On this page we will be sharing some of the fantastic things we do in class.
Welcome to our new Reception families If you have any questions please do not hesitate to ask.
Busy, Busy! Thursday 14th September 2017
Our last half day session has been extremely busy. We've been looking for items that begin with the letter s, searching for superheroes, using scissors, sharing and saying silly sentences! Tomorrow will be our first full day and we are all staying for lunch.
Our Teacher is
Mrs Gould
Reception teacher, Mrs Gould, is best known for going to work to have fun and play!
She is proud Mummy to Emily and calls all the children she teaches "her babies" (even when they are almost ready for Year 1!)
She loves to sing and in her youth was an award winning dancer. These days 5-a-day.tv is her favourite way to "boogie".
Mrs Gould's first teaching post was way back in 1992. So she's even taught some of Burgh School's Parents!
Superhero Fun 13th September
We have had lots of fun starting our superhero topic. Families, can you spot your own superhero? If you can't, we may not have received permission to feature them on the website yet. Please check with Mrs Gould if you can't see your little one and would like to see them featured.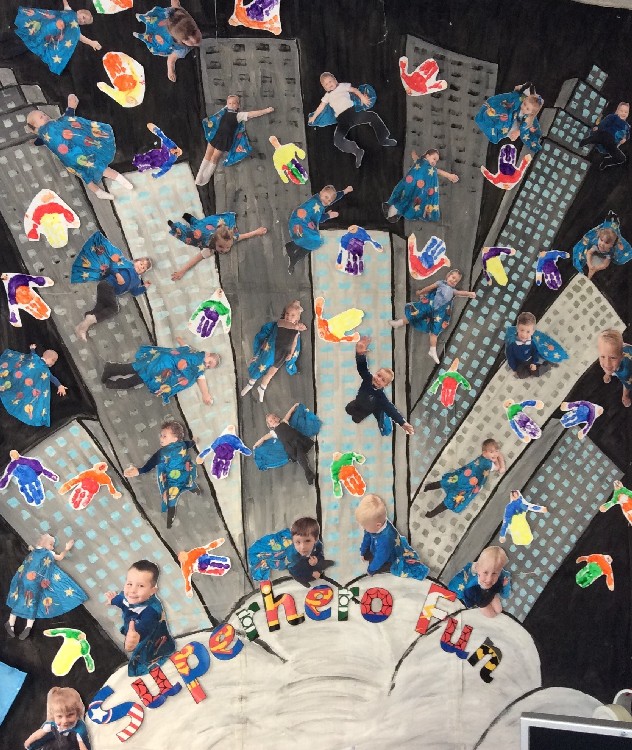 Such A Beautiful Morning Tuesday 12th September
We've had a very busy morning and the sun has been shining. Look at just a few of the activities we have chosen to use in our outside environment.
Exploring Our Environment Monday 11th September
In between the showers and heavy rain today, we had lots of fun exploring and discovering some of the resources in Reception.
Reception 2017 - 2018 5 September
Welcome to Reception. Here are just a few of the activities we have explored today. We've received a special certificate that includes our school core values. It is for you to keep. See you tomorrow for more learning, exploring, discovery and fun!